This completely remote commission was made with C's choice of combination of metals and stone.
An 18ct white gold outer ring, with an 18ct yellow gold inner ring set with a light blue sapphire.
'It fits and she LOVES it. Thank you so so much.'  C.D.L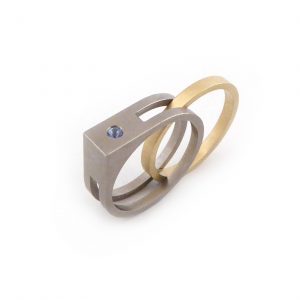 The two rings fit into each other and form a unity.
This commission was based on a our thin ring of change , but made in different materials with different stones.
'She loves it. It is absolutely gorgeous and so special.' C.D.L